Save 12%! New Ridgid R2002 router with lifetime warranty
$

125.00
On sale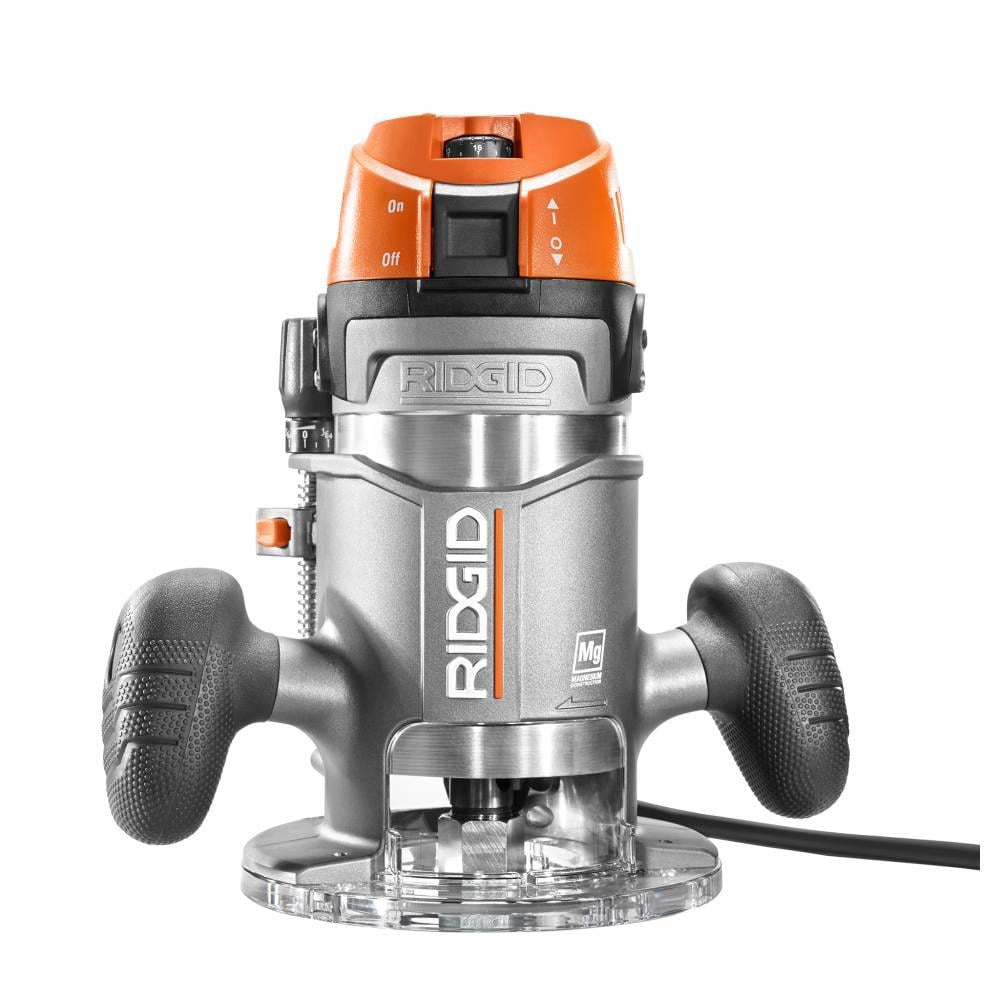 Home Depot sells this for about $170 shipped after taxes. Save $20 and get it shipped for free when you buy a kit or sled at the same time. Plus it has a LIFETIME WARRANTY!
We recommend running it at the lowest speed of 10,000rpm unless you have a specific reason to run it faster
We do not recommend using the Z axis of this router because it has about a full turn of slack in it and the plastic piece that moves the router up and down can break and cause the router to get stuck in your plywood destroying the cut. Yes it will work most of the time, but Murphy's law states it will fail on your most important job.
We recommend either using the Meticulous Z axis sled located here:
http://maslowcommunitygarden.org/The-Meticulous-Z-Axis.html
or a Cbeam z axis which we sell as well.
Some people wonder why we offer two different routers: the makita 1 1/4 hp router and the 2 HP Ridgid. The ridgid was the original router used on the maslow so a lot of people assume it's better. It definitely has more horse power and also has the lifetime warranty, but it is about 10 lbs. vs the Makita which is about 4 lbs. The lighter weight makes the Makita much easier to move up and down on the z axis.
Below is the standard retail description of this item.
The RIDGID 2 HP Fixed Base Router is durably built from precision-milled magnesium and features an 11 Amp motor that delivers enough power for dense materials. Easy-access, soft, hex-grip handles give you comfort and minimize vibration. Soft start ensures controlled, smooth starts. Dual LED lights on the router help illuminate your work area for improved visibility.
Includes motor, fixed base router, 1/2 in. collet, 1/4 in. collet adaptor, collet wrench, router table attachment screws, centering tool and pin, T-handle wrench, vacuum attachment, 1-1/4 in. vacuum adaptor for 2-1/2 in. hose and contractor's bag
11 Amp, 2-peak horsepower motor provides the power needed for dense material
Electronic variable speed with feedback helps maintain speed under load
Micro-depth adjustment for precise depth control
Soft start for gradual start-up and extended life of motor
Spindle lock for easy bit changes
3-point over mold design prevents accidental marring of surfaces
Brushes are accessible and can be serviced quickly for minimum downtime
No-mar flat top: router sits upside down for easier bit changes